Living Laboratories Initiative
The Living Laboratories Initiative is an integrated approach to agricultural innovation that brings farmers, scientists, and other partners together to co-develop, test, and monitor new practices and technologies in a real-life context.
The result will be more practical technologies and sustainable farming practices adopted more quickly by Canadian farmers. A nationwide network of sites will be developed to create innovative solutions to help the sector:
Adjust to climate change
Reduce water contamination
Improve soil and water conservation
Maximize habitat capacity and biodiversity on agricultural landscapes
The goal is for farmers to work directly with scientists and other partners to conduct experiments right on their farms. This will enable them to develop and implement beneficial management practices, and it will put technologies into their hands faster.
This new integrated approach is an opportunity for both federal government and external partners to co-develop solutions to agri-environmental challenges.
Core principles
The Living Laboratories Initiative is based on three core principles:
User centered innovation

The farmers and the local land owners are the users of the technology or practice, and they participate in the design of the projects, of the solutions and experiments from the very beginning.

Private-Public-People partnership

Experts from various disciplines and backgrounds (government, non-government, local producers) work together to tackle a common issue.

Real-life experimental setups

Working farms are the incubators of innovative technologies.
Methodology
Each Living Laboratory site will follow a similar methodology for its identified priority issues:
Planning

Validating and refining the cycle of innovation (priorities, outcomes, etc.). This involves hosting working sessions to identify the farmers' needs and interests.

Co-design

Identifying needs and outcomes; anticipating possible barriers. Farmers, landowners, researchers and other partners participate together in the co-design and co-development of potential solutions.

Exploration and experimentation

Acquiring new data, conducting experiments, and developing knowledge in a real-life context.

Evaluation

Taking stock of the experiments and the cycle of innovation, and adjust it based on farmers' input and experimental results.

Adoption

Adopting the new management practice or technology.
The methodology will follow an iterative process according to the innovation cycle mentioned above, namely planning, conception, prototyping, development and adoption. Following evaluation, each project team will go back to the planning phase to prepare for a new cycle of innovation until the technology makes sense, not only from a scientific perspective, but also from the farmer's perspective. This approach will result in more successful adoption of the co-developed technologies that will be desirable, feasible and viable.
Figure 1 - Text version

Planning to adoption:

co-design, exploration, experimentation, evaluation = conception
co-design, exploration, experimentation, evaluation = prototyping
co-design, exploration, experimentation, evaluation = development
Following evaluation, go back to the planning phase to prepare for a new cycle of innovation
Desired outcomes
The Living Laboratories Initiative aims to:
Create a network of active partners interested in addressing priority agri-environmental challenges in each selected landscape
Create a long-term, national network of sites to foster cross-fertilization of ideas, collaborations, and the open exchange of knowledge
Enhance connections with international initiatives to increase scientific collaborations and knowledge sharing, including sharing lessons learned
Increase technology adoption and meet emerging market demands
Improve environmental performance through increased technology transfer and adoption of the appropriate tools, practices, and technologies by local producers.
Roll-out plan
The five initial sites of the Living Laboratories National Network will be established in phases: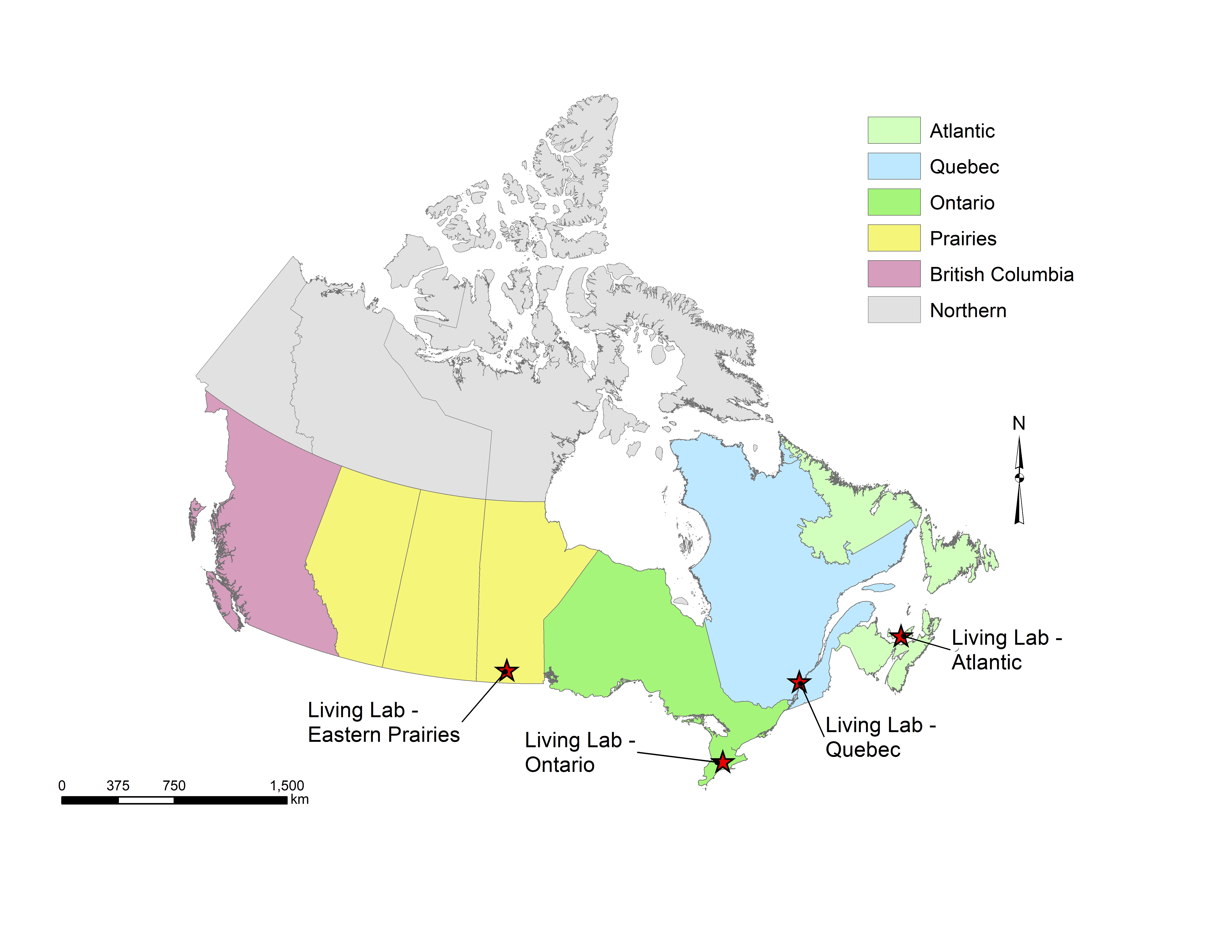 Living Lab - Atlantic
Living Lab - Eastern Prairies
Living Lab - Quebec
Living Lab - Ontario
Establishing the network in phases will ensure that the projects achieve their desired objectives and outcomes while allowing us to learn as we go and adapt.
How to apply?
External partners can submit an application to the Living Laboratories Initiative: Collaborative Program
In advance of submitting their project proposal, applicants should have developed a network of partnerships including engagement with the AAFC Science and Technology Branch, and where applicable, inclusion of Indigenous communities.
Additional links
Across the globe: Living Laboratories Networks
European Network of Living Labs (ENOLL)
Agricultural similar initiatives
Contact
For further information, please contact the Living Laboratories Division: aafc.livinglaboratories-laboratoiresvivants.aac@canada.ca.
Report a problem on this page
Date modified: