Camelina: Year-Round Potential
Camelina (Camelina sativa) is an ancient European oilseed crop with potential to be a multi-season crop in Canada. AAFC researchers are helping to increase the opportunities for this crop, which is great news for farmers.
Camelina shows big potential for Canadian agriculture because it requires less water than canola, matures early, and can grow in cool, dry climates. Camelina seed is high in protein and the oil from camelina seed is high in omega-3 fatty acids and Vitamin E, making the meal a high-quality feed ingredient for poultry and rendering the oil a valuable food supplement, feed additive for companion animals like horses and dogs and feed ingredient for fish. It is also showing potential as a bio product for use in bioplastic packaging.
Potential on the Shelf
Camelina has been cultivated for thousands of years in Europe and Asia. It was brought to Canada in 1863 and had been considered as a commercial crop several times - but it wasn't until 1999 that it planted itself firmly in the minds of AAFC researchers at the Saskatoon Research and Development Centre (RDC).
That's when Richard Gugel, of the Centre's Plant Gene Resources of Canada, was regenerating the collection's camelina seeds in field trials. He noted its uniformity, early maturity, lack of disease and pest problems, and relatively good overall agronomic performance. Dr. Kevin Falk (now retired), who bred several varieties of Polish canola and Ethiopian mustard (carinata), agreed to work on camelina with Gugel. After some field trials to evaluate agronomics and seed quality, they had the basis for a breeding program. Promising early results gave Falk the industry support needed to continue research on camelina.
Ongoing Camelina Research
Today, AAFC scientists continue to develop camelina as a crop for the Canadian agricultural landscape.
Dr. Christina Eynck of the Saskatoon RDC is leading AAFC's camelina development and breeding program. As a low-input crop, the potential of camelina for crop rotation and cash crop purposes is beginning to be realized.
"Our team is constantly working to improve varieties and growing practices for camelina. Not only does camelina need less time and fewer resources than other conventional crops, but with winter varieties being introduced, it's also creating an opportunity for use in winter crop rotations."

- Dr. Christina Eynck, Research Scientist, Saskatoon Research and Development Centre
The plant's natural resistance to pests and disease, as well as its tolerance to drought and low temperatures, mean it's possible for camelina to grow where other crops may not thrive. Dr. Eynck is working on winter varieties for use in crop rotations between winter cereals. It would be the only winter oilseed to be grown on the Canadian prairies.
Winter crops act as cash crops for producers and protect topsoil from wind and water erosion, keeping the soil nutrient-rich year-round. Winter-grown camelina is also one of the first plants to flower, providing pollinators a valuable food source in the spring. The integration of winter camelina varieties into Canadian farmers' crop rotations can be a prosperous addition to their fields.
Other AAFC researchers have also worked on the crop. Drs. Dwayne Hegedus and Isobel Parkin collaborated on a project with Dalhousie and Memorial universities that addressed the use of camelina meal protein and oil in farmed fish diets. In the end, the Canadian Food Inspection Agency (CFIA) approved 100% replacement of fish oil with camelina oil in fish diets, adding a new market for the crop.
Research on camelina is still ongoing with the goal to make camelina a year-round crop that benefits both farmers and the environment.
Key Discoveries/Benefits
Camelina can be produced with fewer resources and less time, making it an attractive choice for crop rotations with producers.
Camelina can survive in conditions where other crops may not be successful. The crop's hardiness to cold temperatures gives camelina the potential to become the Canadian prairies' first and only winter oilseed.
Camelina oil and meal is a valuable resource for the industrial, cosmetic, agriculture and agri-food sectors.
Photo gallery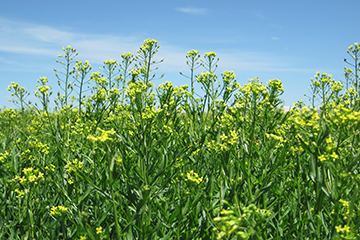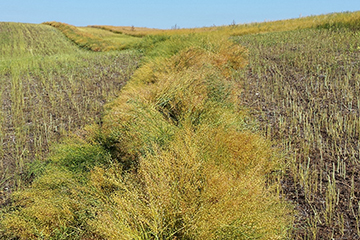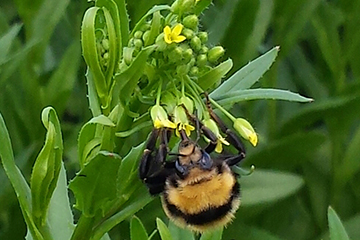 Related information
Report a problem on this page
Date modified: