Statistical Overview of the Canadian Maple Industry, 2019
For your convenience, this report is available in the following format:
PDF (884 KB)
Overview
The Canadian maple syrup industry accounts for approximately 75% of the world's maple syrup production, with 91% of the Canadian production originating from Quebec, 4% from New Brunswick, and 4% from Ontario. The United States is the second largest world producer accounting for approximately 24% of global production, with 50% of U.S production originating from Vermont, 20% from New York, and 12% from Maine.
Despite a cold, late spring in Eastern Canada, the 2019 maple harvest rose by 35% from a year earlier to a record high 13.2 million gallons, due to higher yields and more taps. The 2019 production increase followed 2018's cold, harsh winter and short spring, which affected much of the country, and drove down Canadian maple syrup production that year, notably in Quebec and New Brunswick. The total value of maple products in 2019 rose by 34% year over year to $517.5 million. This increase was mostly attributable to higher production since prices remained relatively stable at $39.19 per gallon in 2019, down 17 cents from a year earlier.
Production was up in every maple-producing provinces. Quebec harvested 12 million gallons, up 35% from a year earlier. Production was also robust in New Brunswick (+66% to 598 thousand gallons), Ontario (+8% to 502 thousand gallons) and Nova Scotia (+27% to 70 thousand gallons).
Canada is also the world's largest exporter of maple products, with exports valued at $430 million in 2019, up 6% from 2018. Quebec accounted for 97% of Canadian maple product exports for 2019. In that year, Canadian maple products were exported to 68 different countries around the world; 62% of the exports were destined to the United States, 10% to Germany, 5% to Japan, 5% the United Kingdom, 5% to Australia and 4% to France, with the other export destinations accounting for the remaining 9% of total exports.
The COVID-19 pandemic emerged just as the 2020 maple syrup season was commencing. Maple syrup producers cited losses due to the shutdown of sugar shacks during the short, busy season, as well as decreased demand from the foodservice/hospitality industry. In addition, various maple syrup events, such as the Elmira Maple Syrup Festival - the world's largest one-day maple syrup festival - had been cancelled, which normally attracts tens of thousands of attendees. Due to COVID-19 measures related to physical distancing and reduced staff levels, producers had also reported delays in having their maple syrup graded. The full impact of the COVID-19 pandemic on maple syrup production will be addressed in the next report to be released in 2021.
1. Production
1.1. Number of maple farms[1] [2] by province
Number of maple farms by province
2011
2016
Newfoundland and Labrador
1
0
Prince Edward Island
2
1
Nova Scotia
36
48
New Brunswick
108
111
Quebec
4,674
4,776
Ontario
416
391
Manitoba
6
6
Saskatchewan
0
2
Alberta
0
0
British Columbia
5
5
Canada
5,248
5,340

Notes:
[1] The last Census of Agriculture was conducted in 2016. The next Census of Agriculture will occur in 2021.
[2] Number of farms includes all farms reported maple taps, and not exclusively farms in which maple syrup production represents 50% or more of total farm cash receipts.

Source: Statistics Canada. Table 32-10-0166-01 Farms classified by farm type
1.2. Number of maple taps[1] by province
Number of maple taps by province
2011
2016
Newfoundland and Labrador
x
0
Prince Edward Island
9,693
9,760
Nova Scotia
372,452
446,300
New Brunswick
1,896,773
2,285,785
Quebec
40,632,512
42,529,033
Ontario
1,508,651
1,713,022
Manitoba
8,251
5,961
Saskatchewan
5,917
1,490
Alberta
x
0
British Columbia
3,609
4,009
Canada
44,440,024
46,995,360

Notes:
[1] The last Census of Agriculture was conducted in 2016. The next Census of Agriculture will occur in 2021.
X: Suppressed to meet the confidentiality requirements of the Statistics Act.

Source: Statistics Canada. Table 32-10-0423-01 Maple taps
1.3. Maple syrup production[1] by province (thousands of gallons[2])
Maple syrup production by province (thousands of gallons)
2015
2016
2017
2018
2019
Nova Scotia
19
48
43
55
70
New Brunswick
430
528
551
361
598
Quebec
8,090
11,185
11,493
8,914
12,033
Ontario
369
398
425
465
502
Canada
8,908
12,160
12,512
9,796
13,204

Notes:
[1] Maple products such as taffy, sugar and maple butter have been converted to syrup equivalent.
[2]Conversion factors: 1 gallon of syrup equals 10.0 pounds of maple sugar. One gallon of syrup weighs 13.24760 pounds. One gallon of syrup equals 10.4 pounds of taffy. The conversion of maple taffy to syrup varies with the density of syrup that year.

Source: Statistics Canada. Table 32-10-0354-01 Production and value of maple products (× 1,000)
1.4. Maple syrup production by province - percent share, 2019
1.5. Gross value[1] of maple products by province (thousands of Canadian dollars)
Gross value of maple products by province (thousands of Canadian dollars)
2015
2016
2017
2018
2019
Nova Scotia
1,176
3,200
2,473
3,069
3,847
New Brunswick
24,415
22,023
22,003
13,715
23,217
Quebec
306,500
435,600
444,570
344,834
463,889
Ontario
26,151
23,286
24,947
23,913
26,535
Canada
358,242
484,109
493,992
385,531
517,489

Note:
[1] The gross value of maple products includes maple sugar, maple syrup, maple taffy and maple butter.

Source: Statistics Canada. Table 32-10-0354-01 Production and value of maple products (× 1,000)
1.6. Gross value of maple products by province - percent share, 2019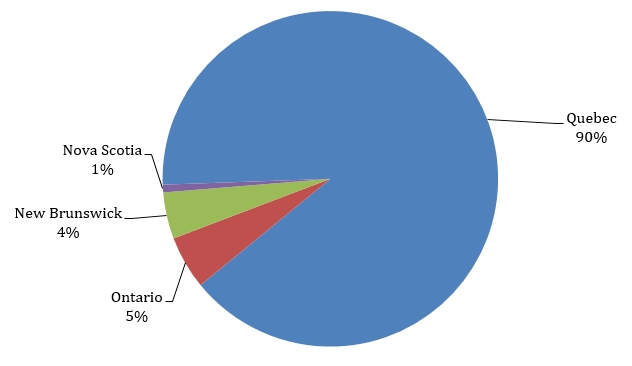 2. Trade
2.1. Exports
2.1.1. Maple products[1] exports by province - value (thousands of Canadian dollars)
Maple products exports by province - value (thousands of Canadian dollars)
2015
2016
2017
2018
2019
Newfoundland and Labrador
0
1
0
0
5
Prince Edward Island
0
0
23
211
3
Nova Scotia
515
558
520
129
210
New Brunswick
17,648
17,168
10,808
9,664
10,811
Quebec
338,976
362,324
369,001
394,830
417,486
Ontario
2,155
773
171
356
963
Manitoba
0
0
0
0
0
Saskatchewan
47
0
0
50
0
Alberta
1
194
118
1
74
British Columbia
200
391
702
419
393
Canada[2]
359,542
381,408
381,342
405,661
429,944

Notes:
[1] Maple Products include both maple sugar and maple syrup.
[2] Totals may not add up as some data was suppressed to meet confidentiality requirements of the Statistics Act.

Source: Statistics Canada (CATSNet, September 2020)
2.1.2. Maple products exports by province - percent share, 2019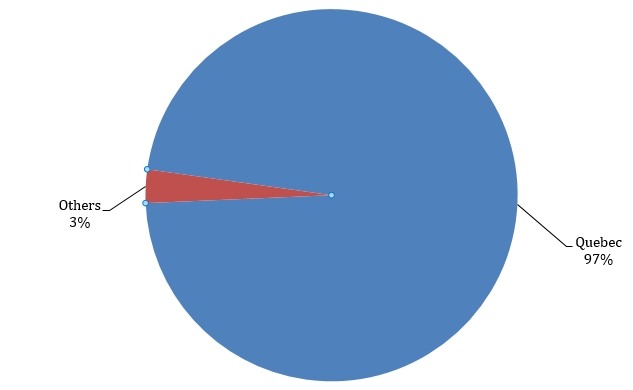 2.1.3. Maple products[1] exports by province - volume (kilograms)
Maple products exports by province - volume (kilograms)
2015
2016
2017
2018
2019
Newfoundland and Labrador
0
55
22
44
501
Prince Edward Island
0
0
2,111
27,387
254
Nova Scotia
55,554
62,237
49,940
14,436
19,297
New Brunswick
2,004,193
1,940,942
1,304,800
1,169,415
1,339,734
Quebec
39,803,755
42,917,697
44,427,902
47,078,513
49,178,196
Ontario
301,011
110,150
23,329
52,487
135,161
Manitoba
0
0
0
0
0
Saskatchewan
7,316
0
0
4,610
0
Alberta
77
24,001
20,471
89
12,708
British Columbia
17,791
37,176
70,997
36,581
34,319
Canada[2]
42,189,697
45,092,258
45,899,572
48,383,562
50,720,170

Notes:
[1] Maple Products include both maple sugar and maple syrup.
[2] Totals may not add up as some data was suppressed to meet confidentiality requirements of the Statistics Act.

Source: Statistics Canada (CATSNet, September 2020)
2.1.4. Top 10 maple products export destinations - value (thousands of Canadian dollars)
Top 10 maple products export destinations - value (thousands of Canadian dollars)
2015
2016
2017
2018
2019
United States
229,168
236,279
236,104
250,484
266,559
Germany
31,035
40,043
40,721
44,872
42,121
Japan
26,324
25,756
22,945
22,233
23,441
United Kingdom
16,177
16,584
17,733
18,567
21,698
Australia
12,088
15,650
17,627
17,500
18,832
France
12,212
13,049
12,743
13,436
16,705
Denmark
5,302
6,137
5,127
6,327
7,510
South Korea
4,504
4,152
3,903
5,303
4,720
Netherlands
3,636
3,647
3,659
4,325
4,032
Belgium
2,276
3,126
3,647
3,332
3,400
Others
16,821
16,985
17,133
19,282
20,925
Total
359,542
381,408
381,342
405,661
429,944
Source: Statistics Canada (CATSNet, September 2020)
2.1.5. Top maple products export destinations - percent share, 2019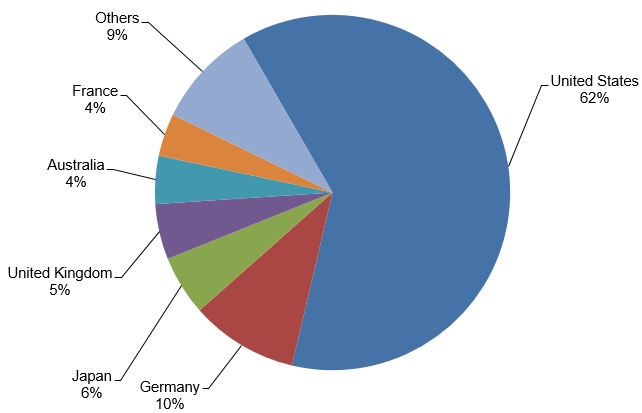 2.1.6. Top 10 maple products export destinations - volume (kilograms)
Top 10 maple products export destinations - volume (kilograms)
2015
2016
2017
2018
2019
United States
26,838,226
27,886,052
28,588,821
30,218,926
32,121,874
Germany
3,549,035
4,540,965
4,622,930
5,003,007
4,867,966
Japan
2,664,895
2,679,569
2,489,628
2,410,106
2,506,567
United Kingdom
2,285,402
2,442,606
2,430,610
2,422,084
2,467,531
Australia
1,615,260
1,958,243
2,179,867
2,130,864
2,114,086
France
1,488,270
1,594,766
1,579,595
1,654,308
2,103,193
Denmark
760,544
868,629
730,988
908,839
994,561
South Korea
494,818
471,750
484,602
670,121
528,207
Netherlands
404,083
390,935
388,048
482,083
433,496
Belgium
229,536
319,853
377,755
339,242
334,156
Others
1,859,628
1,938,890
2,026,728
2,143,982
2,248,533
Total
42,189,697
45,092,258
45,899,572
48,383,562
50,720,170
Source: Statistics Canada (CATSNet, September 2020)
3. Availability for consumption
3.1. Maple products available[1] for consumption[2] (kilograms per person)
Maple products available for consumption (kilograms per person)
2015
2016
2017
2018
2019
Maple Sugar
0.35
0.32
0.32
0.34
0.36

Notes:

[1] Food available per person is calculated by dividing the domestic disappearance by the Canadian population as of July 1st of the reference year, at the retail level.

Domestic disappearance represents the total food available for human consumption from the Canadian food supply chain.

Total Supply = Beginning stocks + Production + Imports.

Domestic Disappearance = Total supply − Exports − Manufacturing − Waste − Ending stocks.

[2] Does not adjust for losses, such as waste and/or spoilage in stores, households, private institutions or restaurants, or losses during preparation.

Source: Statistics Canada. Table 32-10-0054-01 Food available in Canada
4. United States national statistics for maple syrup
4.1. United States maple syrup production by state (thousands of gallons)
United States maple syrup production by state (thousands of gallons)
2015
2016
2017
2018
2019
Vermont
1,410
1,900
2,000
1,940
2,070
New York
601
707
760
806
820
Maine
553
675
715
539
520
Wisconsin
215
235
207
225
270
Michigan
135
124
150
165
195
New Hampshire
154
176
160
163
148
Pennsylvania
186
163
165
142
157
Others
207
204
228
219
0
United States
3,461
4,184
4,385
4,199
4,180
Source: USDA, National Agricultural Statistics Service
4.2. United States maple syrup production value by state (thousands of US dollars)
United States maple syrup production value by state (thousands of US dollars)
2015
2016
2017
2018
2019
Vermont
46,530
57,000
54,000
54,320
57,960
New York
25,242
31,320
29,640
26,114
26,404
Maine
15,484
20,250
24,096
21,668
14,664
New Hampshire
9,148
9,715
6,960
9,144
6,704
Wisconsin
7,117
7,873
6,500
7,290
8,775
Michigan
7,358
5,555
7,680
6,419
9,477
Pennsylvania
5,933
5,118
5,660
5,538
5,495
Others
10
10
11
11
0
United States
126,820
147,240
145,346
141,825
129,479
Source: USDA, National Agricultural Statistics Service
5. World data
5.1. Top 10 importers of maple sugar and maple syrup (thousands of Canadian dollars)
Top 10 importers of maple sugar and maple syrup (thousands of Canadian dollars)
2015
2016
2017
2018
2019
United States
228,988
236,408
236,165
250,548
266,617
Germany
25,358
29,688
30,120
36,683
37,602
United Kingdom
22,784
25,500
25,610
25,264
31,417
Japan
33,936
29,962
29,449
27,428
28,783
France
13,623
13,784
16,121
16,349
23,512
Australia
17,632
17,533
20,866
19,985
22,021
Canada[1]
13,622
21,980
17,078
14,780
14,710
Netherlands
13,084
16,918
17,077
19,659
11,528
Denmark
6,900
6,810
7,150
8,522
8,470
Italy
3,946
6,747
4,648
5,772
7,236
Others
57,019
61,323
65,617
69,260
71,373
Total
436,892
466,653
469,901
494,251
523,268

Note:
[1] 100% of Canadian imports of maple products are sourced from the United States.

Source: Global Trade Tracker (September 2020)
6. Key resources
Global Trade Tracker
Statistics Canada. Table 32-10-0166-01 Farms classified by farm type
Statistics Canada. Table 32-10-0423-01 Maple taps
Statistics Canada. Table 32-10-0354-01 Production and value of maple products
Statistics Canada. Table 32-10-0054-01 Food available in Canada
Statistics Canada. CATSNET
USDA. National Agricultural Statistics Service
Import and export data is based on the following Harmonized System Codes (H.S. Codes):

Maple for import: 1702200010, 1702200020
Maple for export: 17022010, 17022020, 17022021, 17022029
Report a problem on this page
Date modified: