Agroclimate National Risk Report – For period: September 29 to October 14, 2020
This report provides timely information on the regional agroclimate conditions, risks, and impacts across Canada. Reports are produced on a bi-weekly basis.
National overview
The agroclimate risk this reporting period was low across the country as harvest comes to a close. The most significant climate-related risks to agriculture in Canada as of October 14 were dry conditions in parts of the Prairie region which may impact fall-seeded winter cereals.
Harvest is nearly complete in Western Canada.
In Eastern Canada, while harvest is progressing well, forecast precipitation may cause minor harvest delays. Localized impacts due to poor growing conditions have been reported for some of the crops that remain to be harvested. This includes corn, soybean, and potatoes.
Potato yields are below average in New Brunswick and Prince Edward Island due to dry conditions.
Winter wheat seeding may be impacted across the southern Prairies due to dry conditions.
Over the next two weeks, Environment and Climate Change Canada is forecasting active weather across much of Western Canada, bringing rain to British Columbia and mixed precipitation and cool temperatures to the Prairies. Several systems are also expected to bring precipitation to Eastern Canada but temperatures are forecast to be near to above normal.
Maps
14 Day Accumulated Precipitation as of October 12, 2020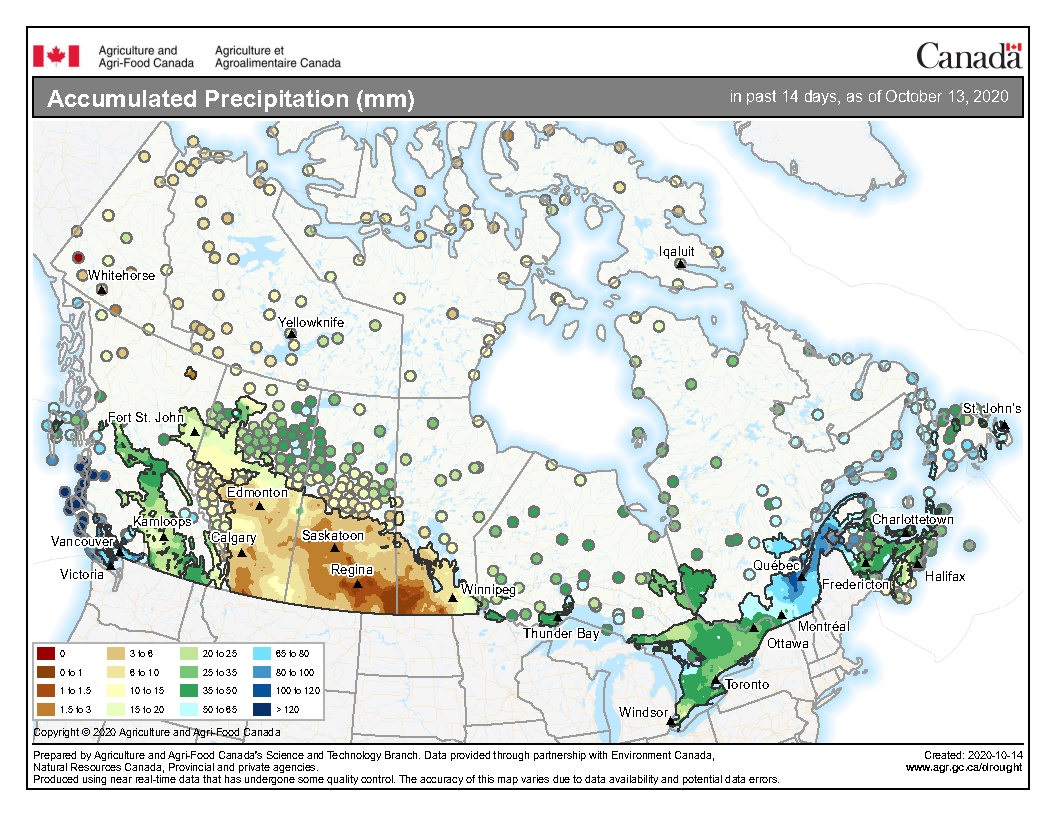 Over the 7 day period from September 15 to 21, much of the Prairie region experienced frost conditions. Much of Saskatchewan and Manitoba reached lows of -2 to -6°C and a pocket in Saskatchewan was as cool as -6 to -10°C. Daily low temperature records were broken in locations across Saskatchewan and Manitoba. Parts of Ontario, Quebec, and the Maritimes also had cool temperatures with some areas reaching -6°C.
30 Day Precipitation Percentile as of October 12, 2020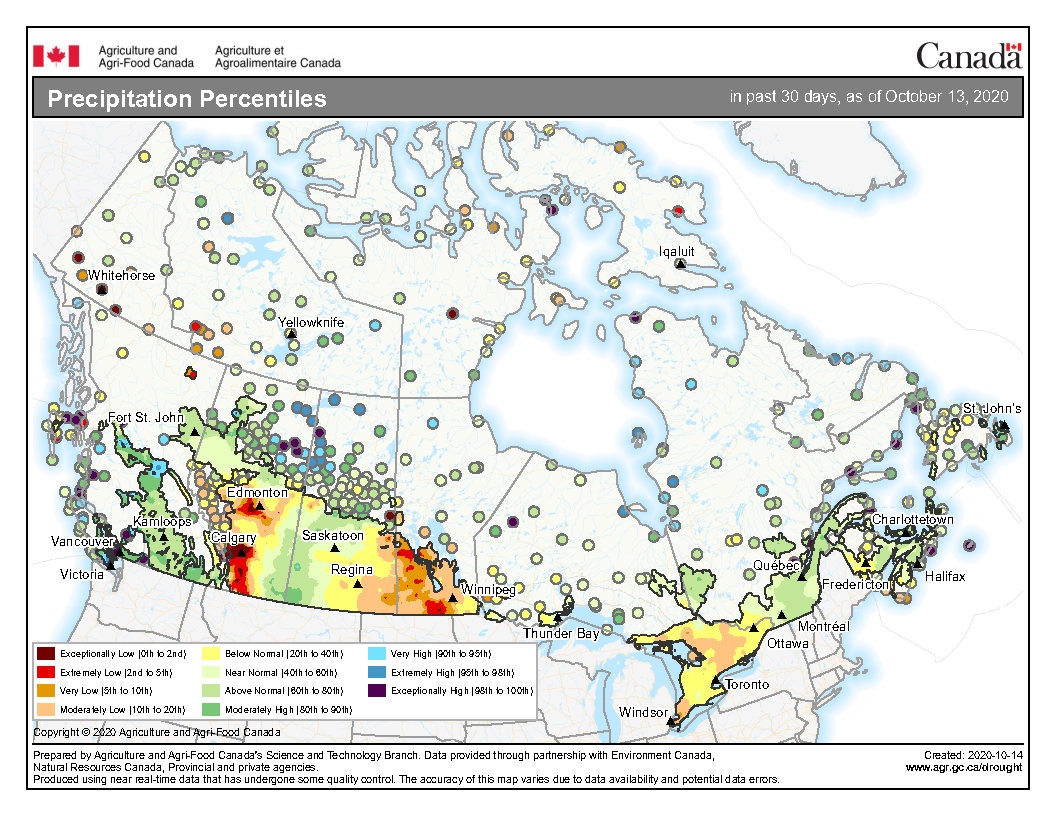 Over the past 30 days, precipitation ranged from near to below average across the country. Significant areas of western Alberta, southern Saskatchewan, and southern and central Manitoba, received extremely to record low precipitation. Dry conditions in the southern Prairies helped crops mature and aided harvest progress. Some coastal stations in British Columbia and parts of Atlantic Canada are reporting extremely high precipitation over the last month.
Regional Conditions
British Columbia

Significant harvest progress was made in the Peace region during the reporting period with 90 per cent of the harvest completed. Recent snow will slow progress. Overall yield and quality is poor with many insurance claims expected.
In the Okanagan region, late-season apple harvest remains approximately 10 days behind normal with good yields being reported overall. Producers are concerned that any sudden temperature changes may affect the quality of apples.

Alberta

Little precipitation and relatively warm and dry conditions allowed for harvest to be completed well ahead of the five and 10-year averages. The Northern and Peace regions have approximately 10 per cent of their crops unharvested, mainly canola and late-seeded spring wheat.
Pastures are quite dry and producers are supplementing cattle feed with green feed and cereal crop stubble.
Emerging drought conditions in Alberta requires continued monitored going into winter.

Saskatchewan

Relatively warm and dry conditions across the province advanced the harvest to 96 per cent complete, well ahead of the five-year average of 76 per cent.
Soil moisture is low across the province. Seeding of winter cereals will be minimal this fall due to dry field conditions.
Crop yields are reported to be average with some reports of yield loss caused by lack of moisture and high temperatures earlier in the summer. Canola and oat crops were mostly impacted.

Manitoba

All regions of the province received limited precipitation over the last reporting period. Dry conditions particularly in the Interlake region impacted tillage and fieldwork operations. Precipitation prior to freeze-up is needed to replenish soil moisture conditions.
Producers continued to make good progress on harvest, as it is 95 per cent complete, ahead of the five-year average. Soybean is 92 per cent complete and yields are mostly reported as average with good quality. Corn harvest has started and is 49 per cent complete with good quality.
The feed situation has improved in the Interlake region with many producers securing supplemental feed. However, localized feed shortages are expected over the winter.

Ontario

There are no significant weather impacts to agriculture over the reporting period. Conditions have generally been favorable for soybean harvest and wheat planting both of which are proceeding rapidly.
Grain corn harvest has begun in the earliest fields, with harvest two to three weeks from completion.

Quebec

Harvest is ongoing across the province with below average yields reported for canola, spring cereals and dry beans. Precipitation events have slowed corn and soybean harvest in some areas.
The third cut of hay is well underway and completed in some regions with near to below average yields of normal quality. Since dry conditions have impacted the quantity of the first and most important cut, the hay shortage remains a serious concern for the province.
Spring cereals harvest is now complete in most regions. Quality and quantity have suffered in some areas due to dry periods in June and July. Winter wheat seeding is complete in most regions.
Late season vegetable producers in northern regions have reported a 40 to 50 per cent crop loss due to late September frost events.

Atlantic

Despite a few rain showers, corn and soybean harvest has advanced and in some cases the moisture has improved harvest conditions.
Potato harvest is still well underway and is expected to be completed earlier than average. Harvest in PEI is 70 to 80 per cent complete with yield reductions ranging from 18 to 20 per cent. In New Brunswick, potato yields dropped by 25 to 50 per cent due to dry weather earlier this year.
Forecast
Over the next two weeks, Environment and Climate Change Canada forecasts active weather across much of Western Canada which is expected to bring rain to British Columbia and mixed precipitation and cool temperatures to the Prairies. Several weather systems are expected to bring precipitation to Eastern Canada.
The Environment and Climate Change Canada mid-October to mid-November forecast shows above normal temperatures across the country with a higher likelihood of high temperatures in Eastern Canada. Above normal precipitation is forecast for much of British Columbia and southern Alberta while below normal precipitation is expected for parts of southern Ontario into the Maritimes.
This report was created with help from our network of Agroclimate Impact Reporter volunteers. Each month, they help us report on current conditions and weather-related risks to Canada's agriculture sector. Join the network if you are interested in becoming an Agroclimate Impact Reporter.
Report a problem on this page
Date modified: