National Agroclimate Risk Report – Spring conditions for May 19 to June 8, 2021
This report provides timely information on the regional agroclimate conditions, risks and impacts across Canada. Reports are produced every three weeks.
National overview
The most significant climate-related risk to agriculture during the reporting period is expanding and intensifying drought across much of southern Saskatchewan and Manitoba. Surface water shortages, water quality, and poor pasture production in these regions are ongoing issues. Drought in British Columbia, Ontario, and Quebec has also emerged as a growing concern.
Below normal temperatures throughout much of Canada's agricultural regions resulted in the delayed emergence of crops, and some localized frost damage was reported in Manitoba, Ontario, and Quebec.
The Environment and Climate Change Canada (ECCC) short-term forecast is for warm temperatures from Alberta through to the Maritimes and well above normal temperatures for southern Saskatchewan and Manitoba. Forecast storm systems this week in the Prairies is not expected to result in widespread improvement in Saskatchewan and Manitoba. Very dry conditions are expected for much of eastern Canada where drought is expected to worsen in Ontario and Quebec. Precipitation is needed in most agricultural regions to support seed germination and crop development.
Maps
Canadian Drought Monitor: May 2021 Assessment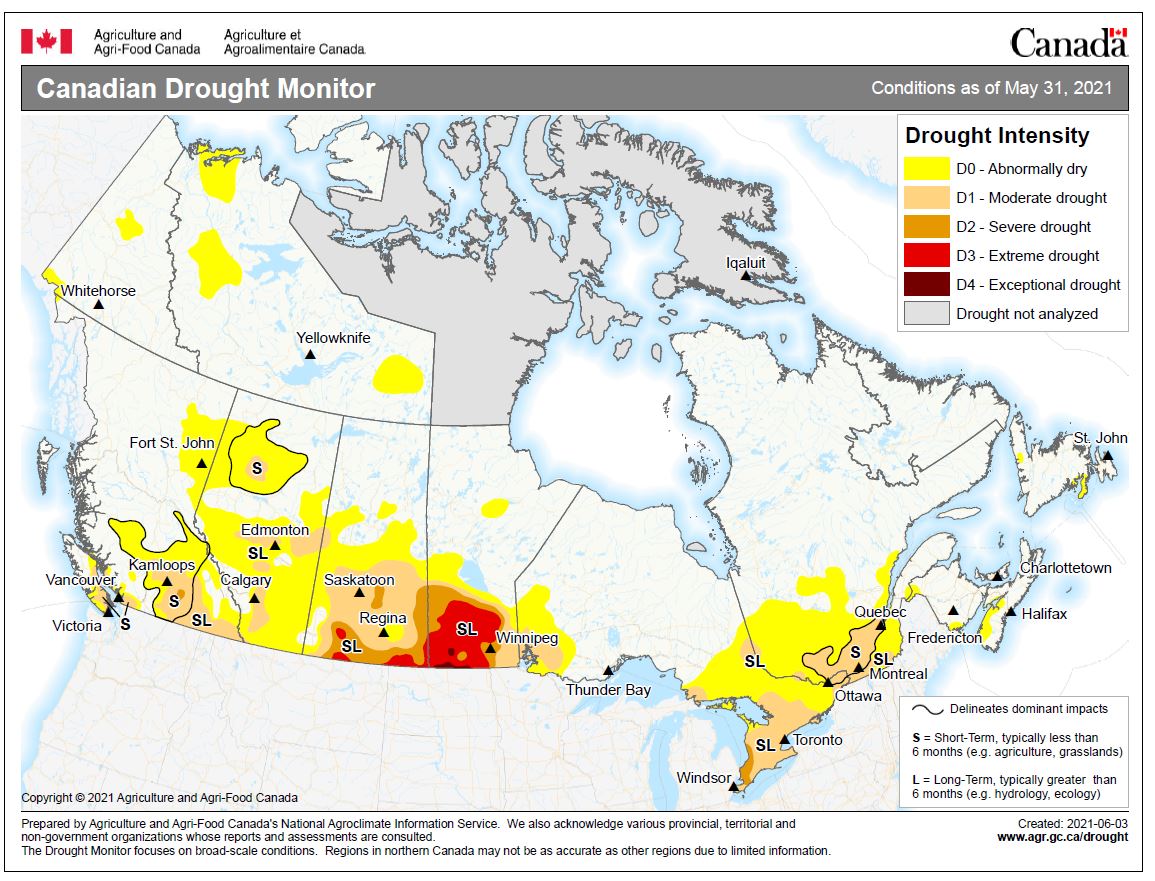 At the end of May, 85% of Canada's agricultural extent was affected by dry and drought conditions. Ontario and Quebec saw the largest expansion of drought conditions but the most severe drought conditions are found in southern Saskatchewan and Manitoba.
Precipitation from April 1 to June 7, 2021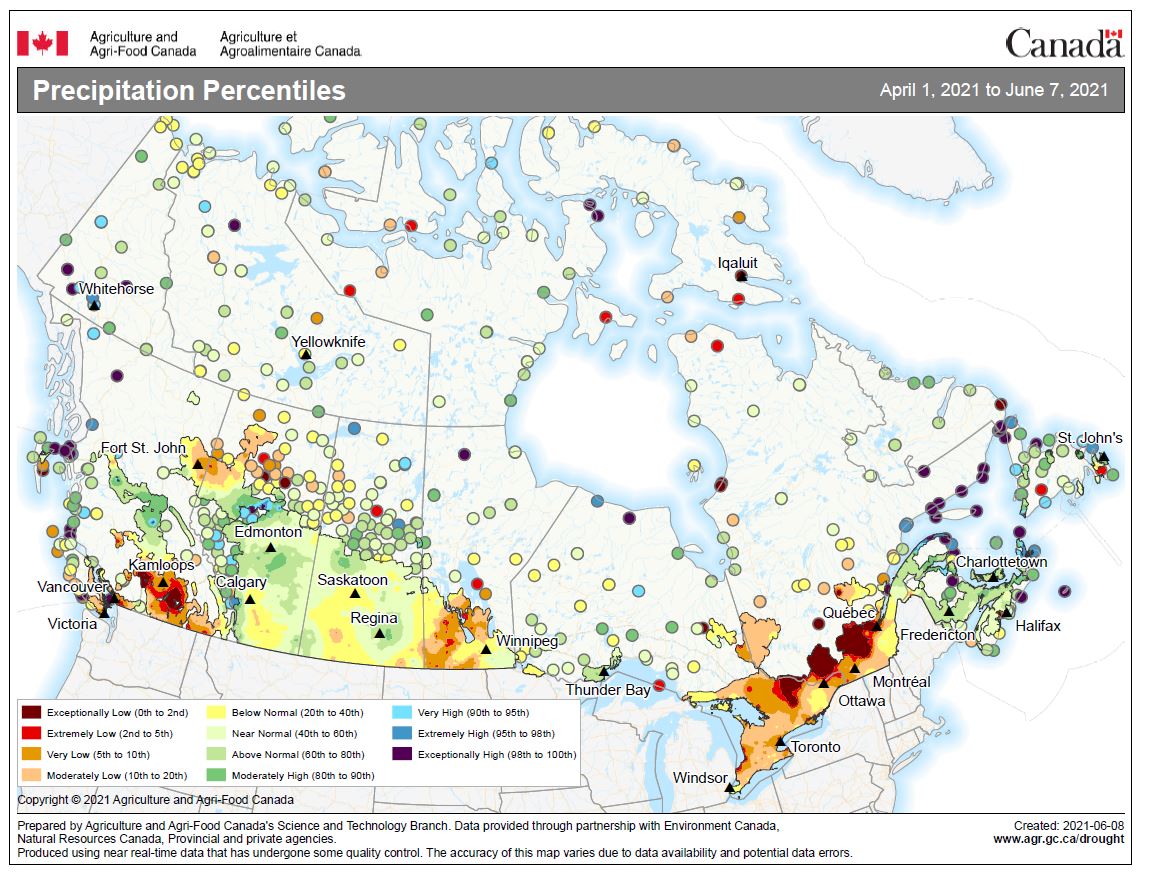 20% of farms and 12% of cattle are in regions that have received very low to extremely low precipitation since April 1, 2021. Southern British Columbia, Ontario, and Quebec have experienced the largest deficits. Despite significant precipitation in May, long-term deficits continue to be an issue in Saskatchewan and Manitoba.
Regional Conditions
British Columbia

Agricultural areas within the province experienced both cool and very warm temperatures as well as varying amounts of precipitation during the reporting period. Drought is a concern in the southeast region, southern interior and eastern Vancouver Island.
Northern and central Okanagan region recorded the driest spring on record. Okanagan lake and river levels are low for this time of year.
Cereal and oilseed seeding is completed ahead of schedule into excellent soil moisture conditions in the Peace region.

Alberta

In the past three weeks, most areas of the province have experienced dry conditions, snowfall, and heat advisories. Most regions received at least 25 mm of precipitation during the reporting period but more moisture is needed in all regions for crop growth. The Peace region is of particular concern due to drought conditions this spring with less than 40% of normal precipitation recorded.
Seeding of spring crops was complete in Alberta as of June 1st and progress is slightly ahead of the 5-year average. Despite dry conditions, pastures have greened up with recent moisture and warmth. Supplemental feeding and cattle grazing on 2020 stubble was commonly observed until the end of May.
Significant snow and sub-zero temperatures in central regions in late May resulted in damage where crop emergence was most advanced. Reseeding of sugar beets, soybeans, and canola was reported. Heat advisories were issued May 31 to June 3. Heat stress damaged newly emerging crops in regions from Red Deer southward.

Saskatchewan

Extremely dry conditions continued to be a significant concern. Precipitation in late May helped with the development of crops and pastures but was insufficient to alleviate drought in most regions.
Livestock water supply shortages are severe in southeast and east-central regions and moderate in west-central and northern regions. Many producers are pumping and/or hauling water to supplement on-farm surface water sources. Some regions have started to restrict the use of community wells for livestock only.
Hay is in short supply in the province. There are reports of livestock producers using their emergency feed stocks to provide supplementary feeding.
Dry conditions are raising concerns about fires in both cropland and pastures. Several rural municipalities across the province have issued fire bans. The most extreme dryness is being experienced in southeastern and east-central areas.
It is estimated that more than 97% of the provincial cropland is seeded ahead of both the 5 and 10-year averages of 92 and 85%, respectively.

Manitoba

99% of Manitoba's agricultural landscape was classified as Moderate to Exceptional Drought. In western regions, precipitation is rated at near record low levels for the September to June period. Dry topsoil has drifted in some locations, filling in seed row furrows or moving off edges of fields.
All regions of the province experienced killing frost May 27 and 28. Damage was less than expected since sensitive crops had not emerged yet.
Rain in late May temporarily relieved drought conditions in most of the province, however, this remains a significant concern. Moisture has helped crop emergence and allowed farmers to complete seeding canola and soybeans. 96% of Manitoba field crops have been seeded compared to a 4-year average of 98%.
Concerns over forage and pasture production continue due to dry and cool conditions. Producers in the Interlake region continue supplemental feeding as pasture production is insufficient. Forage stands continue to deteriorate requiring farmers to convert annual cropped acres to green feed.
Water supply concerns exist across all regions of the province, but most notably in the southwest, central, and Interlake regions. In southern Manitoba, producers are hauling water, digging wells, and expanding dugouts. Municipal water restrictions have been put in place in some regions.

Ontario

Drought has expanded across much of southern Ontario despite recent precipitation providing temporary relief. At this time, dry conditions have not significantly impacted most field crops.
Localized frost damage resulted in losses to fruit crops.

Quebec

Frost periods during the last week of May have been reported in all regions of Quebec, with the St. Lawrence River region being the most severely impacted. Soybean and corn had to be reseeded due to frost, particularly in central regions.
Crop conditions are good in all regions but the lack of precipitation is starting to impact central and western regions. Planting of small spring grains, corn and soybeans is complete in most regions except for in the north and east.
The first hay cut is ahead of normal with excellent yield and quality despite dry conditions..

Atlantic

Seeding is almost complete and crops look good at this early stage. Warmer than normal conditions in some areas have corn and beans emerging ahead of the 5-year average.
First cut forage is now underway with good yields being reported.
Forecast
Over the next week, Environment and Climate Change Canada (ECCC) forecasts warmer than normal temperatures for all agricultural regions except those in British Columbia, where temperatures are forecast to be near-normal and lower than normal in the southwest. There is a high probability of more than 25 mm of precipitation next week across most of western Canada and southern Ontario. There is less chance of this through Quebec and Atlantic Canada. The forecast for the following week (June 14 to 20) shows 50 to 60% probability of more than 25 mm of precipitation for coastal and eastern British Columbia and also parts of Quebec and Atlantic Canada. No significant precipitation is forecast for dry regions in southeastern British Columbia, Saskatchewan, Manitoba, and Ontario June 14 to 20.
The forecast for June shows warm temperatures across the southern Prairies and much of eastern Canada. Conditions are expected to be drier than normal over southern British Columbia, the Prairie region and parts of eastern Canada. Only the northern Prairie region is expected to receive above normal precipitation in June.
This report was created with help from our network of Agroclimate Impact Reporter volunteers. Each month, they help us report on current conditions and weather-related risks to Canada's agriculture sector. Join the network if you are interested in becoming an Agroclimate Impact Reporter.
Report a problem on this page
Date modified: