Agroclimate National Risk Report – June 9 to 23, 2020
This report provides timely information on the regional agroclimate conditions, risks, and impacts across Canada. Reports are produced on a bi-weekly basis.
National overview
The most significant climate-related risks to agriculture in Canada as of June 23 were excessively wet conditions in British Columbia and Alberta and emerging dry conditions in parts of Saskatchewan, Quebec and the Maritimes.
Flooding and excess moisture continues to limit field access and result in poor or delayed crop development in parts of British Columbia and Alberta. Some producers are reseeding in areas that are accessible, but other areas will likely go unseeded this year. In the Peace and northwest Alberta regions, only 70 per cent of the crop has been seeded.
In the Alberta Peace region and northwest Alberta, this is the third year in a row that producers have had significant crop loss due to excess moisture, either during seeding or during harvest.
Severe hail, torrential rain, damaging winds, and overland flooding in localized areas of Alberta, Saskatchewan, and Manitoba have damaged crops and have required producers to reseed or abandon a portion of their crops.
Dry conditions in parts of Saskatchewan, Quebec, and the Maritime region began to impact crop development and more precipitation in these regions is needed for crop emergence.
The forecast for the next two weeks looks favorable with above normal temperatures and precipitation expected in most regions. In Eastern Canada, forecast precipitation will help alleviate dry conditions and support crop development. Additional precipitation in parts of Western Canada especially northern British Columbia and Alberta could compound excess moisture issues.
Maps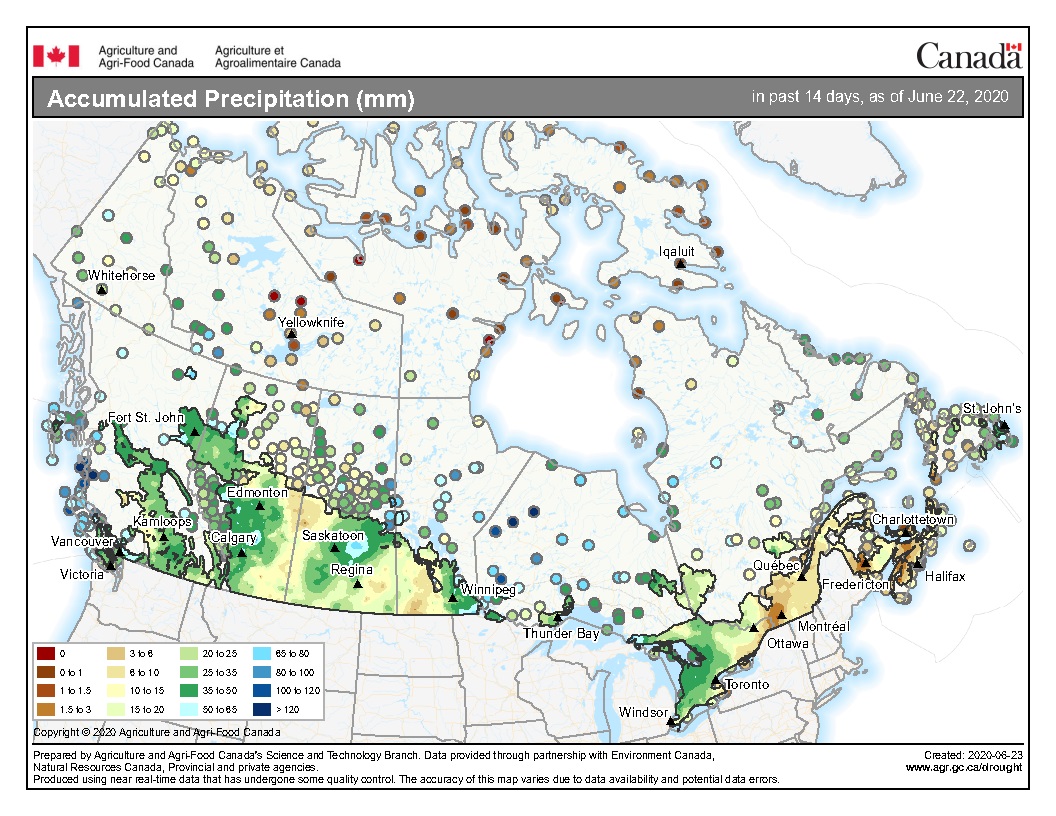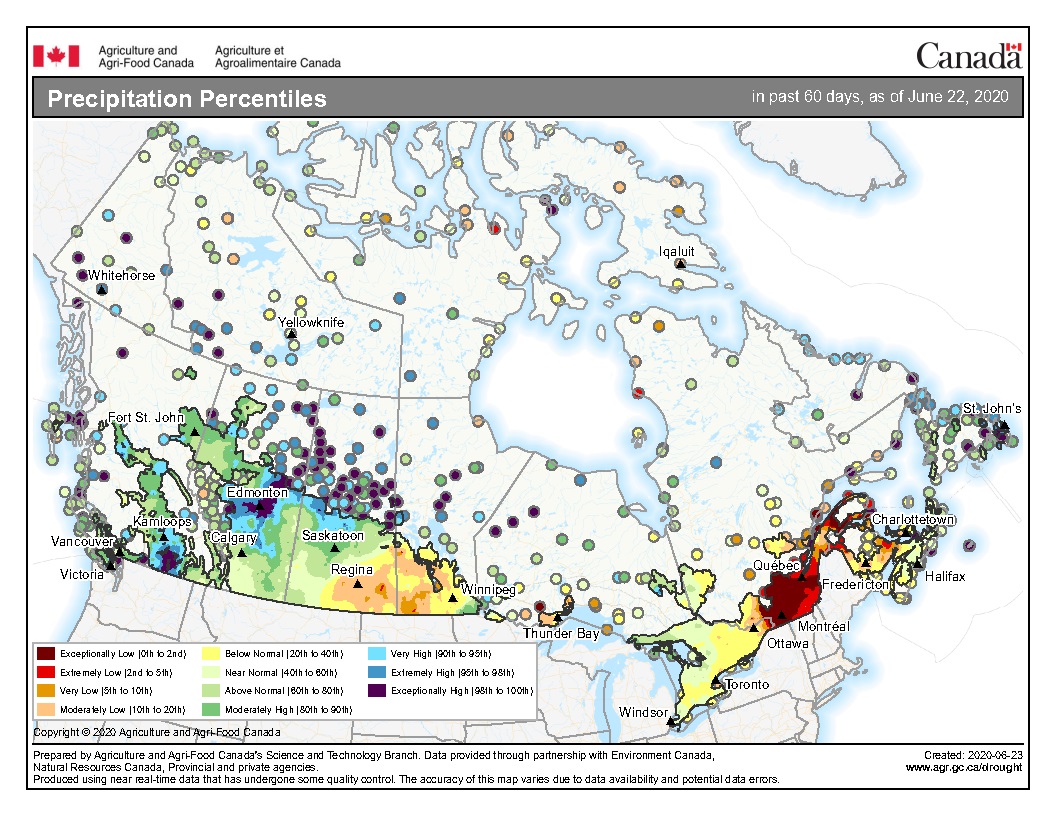 Provincial Conditions
British Columbia

Widespread precipitation and cool temperatures have led to continued excess moisture conditions and flood-related issues during this reporting period.
Seeding in the British Columbia Peace Region has stopped, with 45 per cent of the region remaining unseeded. Areas that have been seeded are experiencing significant seed rot due to the excess moisture. Many producers have been unable to harvest the 2019 crop still in the ground and will not be able to complete seeding this spring.
Flooding concerns are slowly abating in the central Interior. However, localized flooding has made fields inaccessible and high streamflow continues to impact several regions.
Cherry orchard damage from January freeze and spring frost means that a crop shortfall is expected. Early estimates of damage includes $11.5 million in insurance payments.
Localized hail in the Okanagan has damaged some cherry and apple orchards.

Alberta

Alberta has received 31 to 111mm of rain since June 1, including multiple extreme storm events. In southern and eastern regions of the province, this moisture was welcome and has improved soil moisture conditions. However, in the northwest and the Peace regions, this precipitation caused further damage and delays.
Excess moisture and unharvested crops from 2019 have delayed seeding. Time has almost run out for seeding in these regions, leaving 30 per cent (17 million acres) unseeded. Related issues to excess moisture and poor seeding conditions include increased summer fallow, weed issues, poor crop development, and/or drowned crops.
Crop advancement is slow due to the wet, cool conditions in most central and northern areas. Currently, the majority of Alberta crops are one week behind normal. Temperatures have remained seasonal to cooler than normal.
An extreme storm event in the Calgary-Airdrie area on June 13 resulted in torrential rainfall, funnel clouds, and severe hail damage. Crop damage was evident in Rocky View and Mountain View Counties. Fortunately, the Agriculture Financial Services Corporation reported that the early stages of most crops will allow for recovery. However, sugar beet growers reported that the crop sustained 90 per cent hail damage, resulting in near-complete defoliation of some fields in the Lethbridge and Taber areas.
High streamflow advisories are currently in place for Alberta's northern river basins.
The 2020 growing season marks the fourth consecutive year of above-average soil moisture conditions, resulting in delays in seeding or fall harvest in the northwest and Peace regions.

Saskatchewan

Seeding was almost complete in Saskatchewan as of June 16.
Much of the province received rain during the reporting period, resulting in reports of localized flooding in northwest and north-central regions that received intense rainfall. Despite some rain, dry conditions persisted in southern and central regions.
Flooding in the northwest portion of the province has resulted in the relocation of 6,000 to 8,000 cow/calf pairs. The Rural Municipality of Meadow Lake has declared a disaster, and others in the area are considering doing the same.
Strong winds created drying conditions that have some producers concerned about lack of soil moisture and the delays to spraying for weeds and pests.
Generally, the emergence of earlier-seeded crops is good, but lack of moisture and high wind has resulted in spotty canola emergence, and some fields will be reseeded.

Manitoba

Seeding was nearly complete as of June 16. In northern and central agricultural regions, precipitation and warm temperatures led to rapid crop development
Heavy rainfall in the southeast portion of the province has caused localized flooding, standing water, reduced field access, and washed out roads.
Strong and sustained wind conditions have resulted in delays in herbicide applications and canola reseeding  in the southwest and northwest regions.
Despite average-to-good pasture conditions across much of the province, pasture and hay conditions in the southeast received large amounts of rainfall and overland flooding.
First cut hay supplies are expected to be below-average to average due to the cool spring and below-average rainfall conditions.

Ontario

Widespread heat and humidity has advanced crops rapidly, despite a slow start to the season. Crop development is only slightly behind normal. Although the heat is putting some stress on crops that were planted into soils that did not have adequate soil moisture, overall crop conditions are good.
Scattered thunderstorms have brought moisture to some areas, sometimes to excess, but overall conditions are good.

Quebec

Abnormally dry conditions and warm temperatures negatively impacted crop emergence and development. All regions have seen reduced soil moisture over the reporting period.
Growing season precipitation is 50 to 100 mm below normal across agricultural regions.
Consecutive days of excessive heat is exacerbating drought stress on crops.
First cut in hay in southern and central regions is showing normal or below normal yields.
Growth is slow in winter cereals because of dry conditions. In northern and western regions, some fields have also shown damage caused by spring frost.

Atlantic

Across the Maritime region, high temperatures and below-normal precipitation have resulted in poor soil moisture in many areas. Crops are stable and seeds have germinated but are in need of moisture for further development.
First cut of hay is near completion around the region.
Newfoundland is experiencing cold and wet conditions and needs heat for crop development.
Forecast
Over the next two weeks, Environment and Climate Change Canada (ECCC) forecasts generally warm temperatures across the country with rain for southern British Columbia, moving into showers and thunderstorms through the Prairie Region. Ontario and Quebec are also expected to receive precipitation early in the two week period which will move east bringing rain to New Brunswick.
The ECCC forecast for July is above normal temperatures across most of the country with a higher probability of above normal temperatures in Eastern Canada. Above normal precipitation is expected for the Prairie Regions and the Maritimes in July.
This report was created with help from our network of Agroclimate Impact Reporter volunteers. Each month, they help us report on current conditions and weather-related risks to Canada's agriculture sector. Join the network if you are interested in becoming an Agroclimate Impact Reporter.
Report a problem on this page
Date modified: