Agroclimate National Risk Report – July 21 to August 5, 2020
This report provides timely information on the regional agroclimate conditions, risks, and impacts across Canada. Reports are produced on a bi-weekly basis.
National overview
The most significant climate-related risks to agriculture in Canada as of August 5 were excess moisture and flooding in the northwestern agricultural regions of Alberta and British Columbia, and dry and hot conditions in Quebec and the Maritimes.
Excess moisture continues to limit field access and result in poor crop development in northern regions of Alberta and northeastern British Columbia. Hay production in these regions has been difficult due to frequent rain that has significantly degraded quality.
Drought conditions continue to impact Quebec and the Maritimes, resulting in crop stress, decreased feed availability and water supply concerns.
Over the next two weeks, Environment and Climate Change Canada (ECCC) forecasts cool conditions across British Columbia and western Alberta with periods of average to above average temperatures across the rest of the country that are favourable for crop development. Significant precipitation is also forecast for central and southern regions of Quebec, which could help alleviate drought conditions and improve crop development.
Maps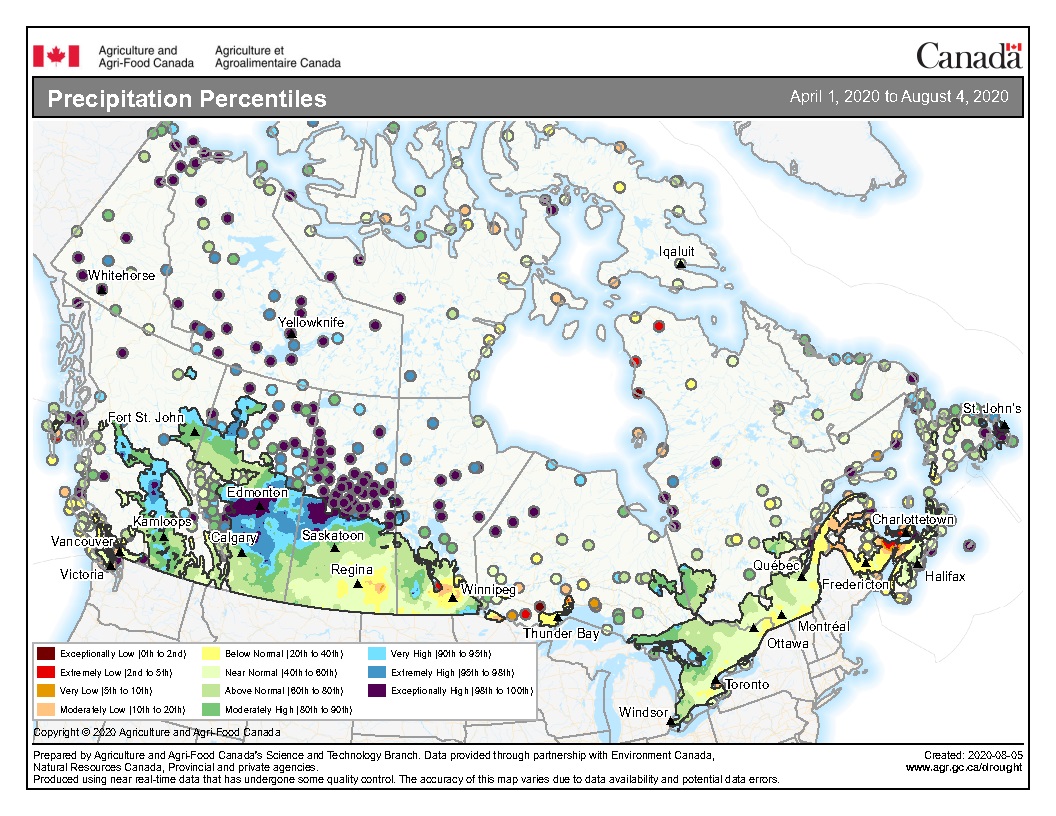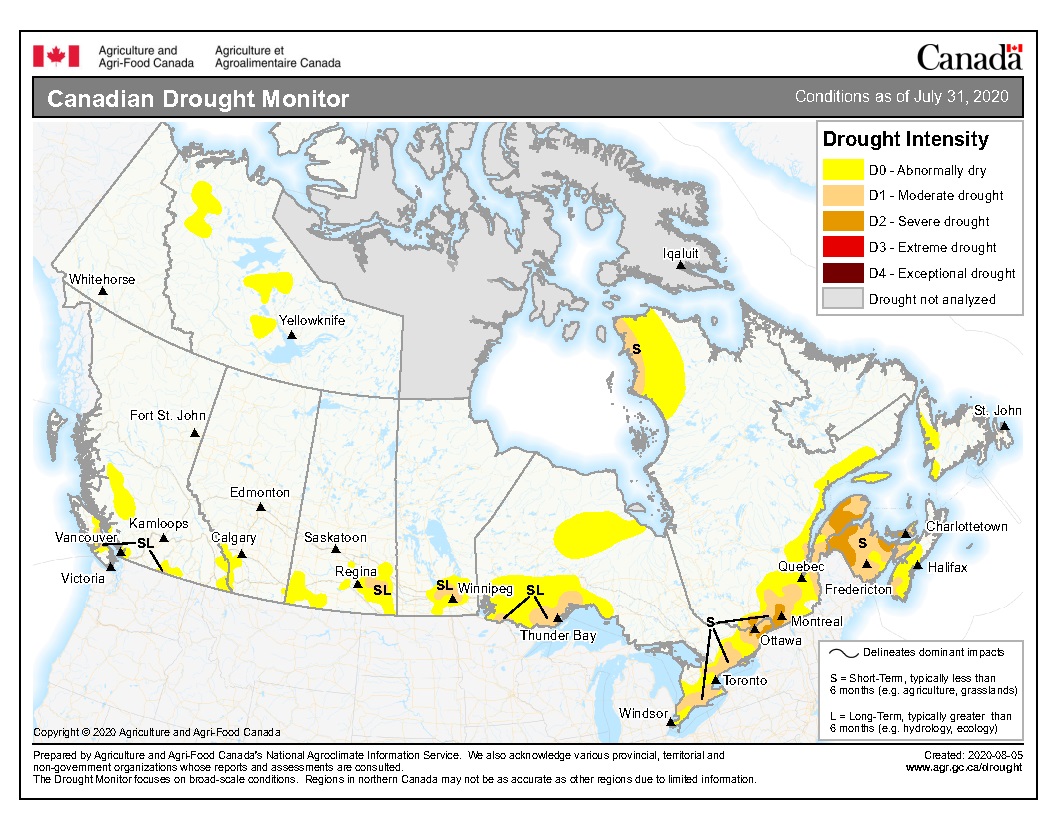 Provincial Conditions
British Columbia

Agricultural regions in most of the province were dominated by hot and dry weather during this reporting period, which positively impacted forages and crops. In southern British Columbia, wildfire risk is rated as high to extreme.
In the Fraser Valley, recent conditions have ripened and improved quality in blueberries. However, yields are much lower than normal due to wet conditions earlier in the season.
Despite improved weather in the Peace Region, peas, barley, and canola that were damaged by excess moisture earlier in the year, have not recovered. Spring wheat is still viable but has been negatively impacted.

Alberta

Warm temperatures over the reporting period have advanced crop development. Despite overall favourable crop conditions, low lying areas continue to struggle with excess moisture throughout central and northern regions.
Most regions have received additional rain over the last two weeks. The south, central and northeast areas saw severe storms, including significant hail, high winds and confirmed tornadoes that resulted in localized damage.
To date, seven rural municipalities in Alberta have declared a state of agricultural disaster due to excessive moisture. For many of these municipalities, it is the second or third year in a row of declaring an agricultural disaster.
Frequent rainfall resulted in significant delays to haying operations and hay quality deterioration. Very little second cut hay will be produced in Alberta in 2020 north of Calgary. As a result there is a significant risk of feed shortages for cow-calf producers throughout this region.
In the south, harvesting of peas is starting and the sweet corn harvest is nearing completion. Hail earlier in June in the Lethbridge and Taber areas destroyed nearly 50 per cent of these crops and has resulted in shortages.

Saskatchewan

Crop development was accelerated over the reporting period by warm and dry conditions. Crops are developing normally for this time of the year, with the majority of crops in fair to excellent condition.
First cut of hay was 26 per cent complete with quality reportedly fair to good, though yields in many areas are below normal due to inadequate rainfall earlier this summer.
Some localized crop damage was observed in southern areas due to highly variable conditions, including wind storms, lack of moisture or conversely localized flooding, hail, as well as insects and disease.

Manitoba

Warm weather has resulted in rapid development of all crops over the past two weeks. Many parts of the province would benefit from rain to help grain formation in corn, sunflowers, and soybeans.
Canola and peas have suffered from excess moisture in some areas, particularly in the southwest, though cereal crops are generally in good to excellent condition.
Pasture conditions are average to good across the province. Parts of the northern Interlake are drier, and pastures would benefit from increased precipitation. Grasshoppers are a concern in all areas and in all crops, forages and pasture.

Ontario

Most of the province has received ample rain over the past two weeks which, combined with normal summertime temperatures, has allowed crops to advance rapidly.
Winter wheat harvest is more than 80 per cent completed, and combining of spring cereals has begun.

Quebec

Precipitation events during the reporting period had positive impacts on crops, however, cumulated rain values are still below the historical values over the growing season by up to 120 mm in central and eastern regions.
Corn and soybean crop conditions are gradually improving; however, drought stress is still being observed.
First cut of hay has been completed with below-normal yields and quality.
Cereal growth and some horticultural crops have been impacted by dry conditions and yield impacts are anticipated.

Atlantic

The Atlantic region experienced extended periods of heat and high humidity, with little to no precipitation in central and western PEI, northwestern New Brunswick, and southwestern Nova Scotia throughout the reporting period. Overall, crops appear to be doing well, but more moisture is required.
Second cut forage is underway. Yields are reduced significantly due to drought. Over the region, second cut hay yields are expected to be down 25 per cent. New Brunswick and PEI have seen the highest impact with 50 per cent yield reductions.
Later seeded potato varieties in PEI and New Brunswick are beginning to show stress, including wilting, due to lack of rain.
Strawberries and raspberries are ripening fast with warmer than normal temperatures, resulting in reduced quality.
There is concern regarding stress on water resources, with specific impacts to irrigation.
Forecast
Over the next two weeks, Environment and Climate Change Canada forecasts cool conditions across British Columbia and western Alberta with average to above average temperatures across the rest of the country. The greatest chance of significant precipitation in the next two weeks is along the British Columbia coast and central and southern regions of Quebec.
The Environment and Climate Change Canada forecast for mid-August to mid-September is for above normal temperatures for coastal regions, Ontario and Quebec. Temperature forecast for the Prairies is of low confidence, but the trend is near-to-above normal temperatures. There is a high probability of drier than normal conditions along both coasts otherwise the precipitation forecast is uncertain.
This report was created with help from our network of Agroclimate Impact Reporter volunteers. Each month, they help us report on current conditions and weather-related risks to Canada's agriculture sector. Join the network if you are interested in becoming an Agroclimate Impact Reporter.
Report a problem on this page
Date modified: