Greener Village: Fredericton's food bank continues to grow
For Canadian food banks, every year brings unique challenges. But the first months of the COVID-19 pandemic were unlike anything they had seen before. For Fredericton's Greener Village food bank director Alex Boyd, it was like stepping into a time warp—having one foot in the last century and the other foot squarely in the pandemic.
"Most food banks started in the 1980s as a five-year plan. And until this year, not much has changed with their approach," explains Alex.
Schools and places of work and business shut down, hospitals prepared for the worst and Canadians looked to their governments for information and solutions. Food banks experienced a coming of age moment. No longer relegated to dark corners of our awareness, food banks were nationally recognized as essential.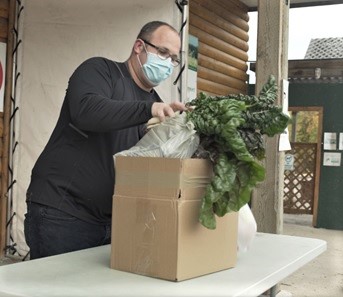 A time of recognition
"Honestly, food banks have been around for a long time—and they were getting taken for granted. So when the Prime Minister and elected officials spoke about us, we saw the results —there have been a noticeable increase in donations," says Alex, referring to Prime Minister Justin Trudeau's recognition of food banks during his daily pandemic announcements back in April 2020.
Alex comes from a family of committed community builders and volunteers. Already a ten-year volunteer with Greener Village, he took on the role of the food bank's director three years ago. But, he never forgets his first day there, when he had his own moment of recognition.
"I came with a friend who volunteered here at the time. I did not realize how deep the problems were. When I say that it was eye-opening, it was really eye-opening. I had seen hunger before helping at international orphanages but never so close to home."
Supporting a community
Named for the greenhouse business that once stood in its location, Greener Village has been serving more clients in different ways since March 2020.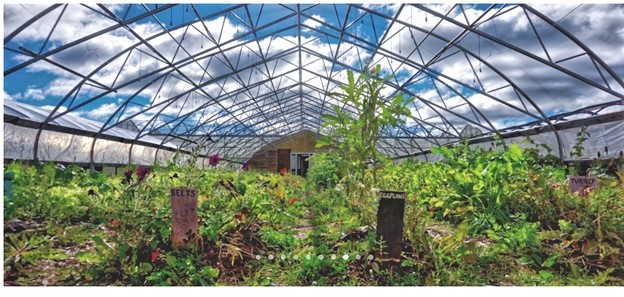 "Suddenly, we were helping hundreds of international students who were stranded in Fredericton during the early days of the pandemic—they were in a tenuous situation," explains Alex. This new need caused their pre-COVID-19 average of 45 to 50 deliveries per month to multiply. "At the peak, we made 500 deliveries in April. We are now making 300 to 400 deliveries per month."
At Greener Village, Alex and his volunteers are working hard to find new ways to support their clients, while also keeping volunteers safe in the midst of the pandemic. They came up with a drive-through system to replace the usual path that clients took inside the Greener Village building—greeted by a volunteer before choosing items from shelves and taking a hamper of milk, eggs, and frozen food.
"Our goal is to still make it a pleasant experience—we are here to help and we all need to work together. Using our new drive-through system our clients drive up and meet Chris our greeter, while more volunteers get the appropriate food. The filled hamper is brought to an outside table where clients can pick it up."
Alex says that financial help from the Emergency Food Security Fund was an important part of Greener Village's summer as it provided funding that they couldn't have done without. "It allowed us to go from making deliveries two days a month to five days a week. We were able to purchase apples, carrots and other produce." The Agriculture and Agri-Food Canada program gave $200 million to food banks and other national food rescue organizations to help improve access to food for Canadians experiencing food insecurity due to the COVID-19 pandemic.
Most importantly, the extra funding meant they were able to reassure clients. "A lot of people were scared to be out of their homes," explains the father of three young children, "We doubled milk and eggs in each hamper and made larger hampers. The fewer trips they need to make, the better."
Thinking beyond the pandemic
The lessons that Alex has learned will stretch well beyond the pandemic as he continues to improve Greener Village's services. "We are going to upgrade our Learning Kitchen so that we can do more in-depth, hands-on training! It's a win-win situation because while our clients are gaining work skills in the Learning Kitchen, they will be using the area to process, prepare, and preserve reclaimed food. This means less food waste in our community."
Then there is his work towards a Management Development Program through the University of New Brunswick's College of Extended Learning—so that he can help to develop leadership at Greener Village. "I never go home wondering if I contributed to my world each day. Going to sleep at night is the easiest part of my job."
Alex thinks pretty big for a director of a food bank that began in a closet in a Fredericton church basement. "I usually have my head down and I am working hard. Talking about this is making me emotional. Much can be accomplished when we all work together."
Report a problem on this page
Date modified: