Good News Grows

Good News Grows serves up helpings of positivity by spotlighting the people making a difference in Canadian agriculture. Farmers putting food on the plates of Canadians, researchers working on a new food discovery, and food bank volunteers helping those who need it—these personal stories will help put a smile on your face.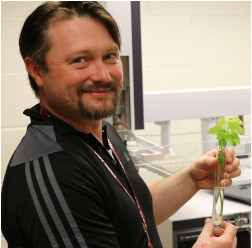 Dr. Jason McCallum and his team have been studying Maritime hops for several years now, and tips from the public have been a big help in finding samples! Learn more about their tasty work.
The Salvation Army has a long history of providing healthy meals to those in need. Learn about how Agriculture and Agri-Food Canada is helping them keep hope alive during the COVID-19 pandemic.
In the small town of St. Paul, Alberta, a local community garden has created a sense of belonging by teaching people of all ages about gardening and giving back to their local food bank.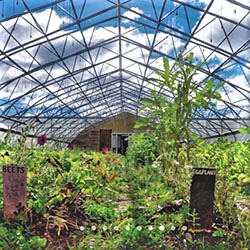 As schools and places of work and business shut down, hospitals prepared for the worst and Canadians looked to their governments for information and solutions to the pandemic, food banks like Fredericton's Greener Village experienced a coming of age moment.
More stories....
Practical Science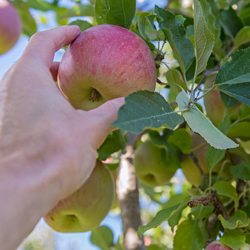 How to store your harvested apples and potatoes.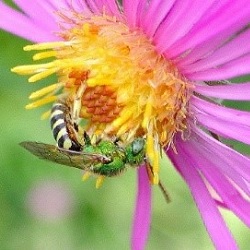 Many pollinators are hard at work on farms and in your garden.
How to manage common pests in your home garden.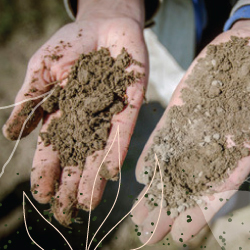 A healthy garden begins with quality soil. How to build it, wherever you live.
Search for more Good News Grows stories
Use filters to search for more stories.
Search results
Agri-Info articles

| Title | First Published Date | Abstract | Month | Type | Subject | Full abstract hidden column | Keywords hidden column |
| --- | --- | --- | --- | --- | --- | --- | --- |
| A Brewer's Tale: How AAFC researcher Dr. Jason McCallum turns Maritime wild hops into unique and delicious beer | 2021-06-11 | Dr. Jason McCallum and his team have been studying Maritime hops for several years now, and tips from the public have been a big help in finding samples! Learn more about their tasty work. | June | Article | Scientist Stories | | COVID-19, research, hops, brewing, Agriculture and Agri-Food Canada |
| Fighting Hunger Across Canada the Salvation Army Way | 2021-05-19 | The Salvation Army has a long history of providing healthy meals to those in need. Learn about how Agriculture and Agri-Food Canada is helping them keep hope alive during the COVID-19 pandemic. | May | Article | Pandemic Positivity | | COVID-19, Food Banks, Canadian Agricultural Partnership, Local Food Infrastructure Fund |
| St. Paul's Community Garden: No small potatoes | 2021-04-19 | In the small town of St. Paul, Alberta, a local community garden has created a sense of belonging by teaching people of all ages about gardening and giving back to their local food bank. | April | Article | Pandemic Positivity | | COVID-19, Food Banks, Canadian Agricultural Partnership, Local Food Infrastructure Fund |
| Greener Village: Fredericton's food bank continues to grow | 2021-04-14 | For Canadian food banks, every year brings unique challenges. But the first months of the COVID-19 pandemic were unlike anything they had seen before. | April | Article | Pandemic Positivity | As schools and places of work and business shut down, hospitals prepared for the worst and Canadians looked to their governments for information and solutions to the pandemic, food banks like Fredericton's Greener Village experienced a coming of age moment. | COVID-19, Food Banks, Canadian agricultural partnership, Emergency Food Security Fund |
| The green people powering the Canada-Ontario Environmental Farm Plan | 2021-03-31 | Canadian farmers have to be experts at many things, including the environment. | March | Article | Next generation of agriculture | These inspiring farmers show how they, and many others, are ahead of the game thanks to a plan started in Ontario which has now gone digital. Find out how small changes are leading to big improvements. | Environmental Farm Plan, electronic Environmental Farm Plan, Ontario Soil and Crop Improvement Association, Canadian Agricultural Partnership |
| Being Agri-Literate: Canadian Agricultural Literacy Month Celebrates its 10th Anniversary | 2021-03-12 | This year marks the tenth anniversary of Canadian Agricultural Literacy Month, a time for students to get their hands into the soil to see how deep our farming roots go. | March | Article | Next generation of agriculture | Farming is one of oldest crafts, with a body of knowledge that has been expanded and refined for thousands of years. | agriculture in the classroom, Canadian agricultural partnership, student, youth |
| Cultivating a Passion for Organic Farming at Ferme Lève-tôt | 2021-02-21 | At Ferme Lève-tôt, in the beautiful Outaouais region of Quebec, we don't just grow vegetables... but also passions. | February | Article | Science Stories | At Ferme Lève-tôt, modern and traditional agricultural techniques are used jointly in vegetable production. | YESP, Youth Employment and Skills Program |
| The Researcher and the Cranberry: A Holiday Tale | 2020-12-21 | A holiday story about an AAFC researcher who had never heard about cranberries but is now studying them in poultry to fight against antimicrobial resistance. | December | Article | Science Stories | Moussa's research has shown that cranberry fruit pomace (the pulp traditionally discarded after juicing) actually has great value | Guelph Research and Development Centre, Dr. Moussa Diarra, cranberry, diversity, alternatives to antibiotics, antimicrobial resistance (AMR), poultry, Mali |
| Technology and youth on the farm: Bringing Alberta's agriculture into a new age | 2020-11-09 | How one young Albertan is giving back to the agriculture sector amid a unique year. | November | Article | A story of how youth are finding gainful work in Alberta's agriculture sector. | | Olds College, Alberta, Alberta agriculture, ABag, Canadian agriculture, Cdnag, Olds, agritech, agribusiness, technology, internship, youth, YESP, Youth Employment and Skills Program |
| A partnership pioneer: Dr. Douglas Hedley joins the Canadian Agricultural Hall of Fame | 2021-02-24 | For his roadmap to bringing the Canadian agriculture sector together, this man is a member of the 2020 Canadian Agricultural Hall of Fame. | February | Article | Science Stories | For his roadmap to bringing the Canadian agriculture sector together, this man is a member of the 2020 Canadian Agricultural Hall of Fame. | Canadian Agricultural Partnership, Canadian Agricultural Hall of Fame, Agriculture, CdnAg, Canadian Agriculture, Douglas Hedley, agricultural policy, innovation |
| Dr. Hao and his amazing automated greenhouse | 2021-01-28 | AAFC researcher Dr. Xiuming Hao's green thumb brought his team to victory at the Autonomous Greenhouse Challenge where AI and horticultural expertise is leading the way to feeding the world. | January | Article | Science Stories | Mother Nature has nothing on the magic that comes from combining Artificial Intelligence (AI) with the kind of horticultural expertise that Dr. Xiuming Hao provides. | Wageningen University & Research in the Netherlands, greenhouse, remotely controlled, horticulture, Good News Grows |
| East Coast food banks find a way to keep their cool | 2020-12-24 | Providing families with hearty holiday food, is "a very bright spot after a hard year." | December | | Pandemic positivity | | |
| Western food banks draw on community spirit during hard times | 2021-01-21 | In western Canada, two communities are drawing on the power of food and community spirit to get them through challenging times. | January | Article | Pandemic positivity | During the COVID-19 period, the Peachland Food Bank has been serving clients at the door. Elements of Christmas with his Cree heritage to create an inclusive environment for all communities. | Local Food Infrastructure Fund, food bank, British Columbia, Alberta, Peachland, Edmonton, community, food security, Peachland Food Bank, St. Faith's Anglican Church, church, homeless, refrigerator, Indigenous, Cree |
| Eyes on the prize: Canada's Outstanding Young Farmers | 2020-12-07 | Checking in with last year's honourees of the Outstanding Young Farmers competition. | December | Article | Next generation of agriculture | In this unprecedented year, last year's honourees of the Outstanding Young Farmers competition are finding new ways to continue their work in the agriculture sector. | OYF, Canada's Outstanding Young Farmers Program, CdnAg, Competition, Outstanding Young Farmers, Outstanding Young Farmers, COVID-19, pandemic, agri-food, agribusiness, crops, dairy, potatoes, fertilizer, goats, eggs, restaurant, food service, online sales |
| Teaching through a pandemic | 2020-10-22 | After adapting to COVID-19 in physical and virtual ways, the Canada Agriculture and Food Museum has reopened its doors to the public! | October | Video | Pandemic positivity | After adapting to COVID-19 in physical and virtual ways, the Canada Agriculture and Food Museum—our partner in promoting agricultural science and achievements—has reopened its doors to the public! | Canada Agriculture and Food Museum, Kerry-Leigh Burchill, COVID-19, programs, educate, schools |
| Cold storage: Making the most of your harvest | 2020-10-22 | How to store your harvested apples and potatoes. | October | Article | Gardening stories | The harvests that Canadians are enjoying from their COVID-19 gardening projects this year are more than generous: colourful and crisp vegetables, juicy fruits, tart berries and some well-spent hours in the sun away from the realities of social distancing. | Apples and potatoes, in particular, grow in quantities that require long-term storage. Learn how to best store your apples and potatoes for best nutrition and flavour with some help from our researchers! |
| Bulk buying: How one British Columbian initiative is helping protect Canada's food-sector workers against COVID-19 | 2020-10-14 | How one B.C. association stepped up to help keep Canadian food-industry workers safe, when they needed it most. | October | Article | Pandemic positivity | When COVID-19 began to spread in Canada, there was a surge in demand for personal protective equipment (PPE) across the country. While health care workers were prioritized, other essential services – such as the food industry – struggled to find proper safety equipment for their staff. | BCFB, British Columbia Food and Beverage Association, PPE, Personal Protective Equipment, COVID-19, novel coronavirus, food and beverage industry, British Columbia, Investment Agriculture Foundation of BC, BC Government, worker safety. |
| Pleasing pollinators: Supporting your hardworking garden allies | 2020-08-05 | Many pollinators are hard at work on farms and in your garden. | August | Article | Gardening stories | Bumble bees are probably the most recognized pollinator, but there are many other pollinators hard at work on farms and in your garden | Pollinators, bees, butterflies, beetles, flies, wasps |
| Plan(t) for success | 2020-06-11 | How to manage common pests in your home garden | June | Article | Gardening stories | | |
| Digging in: The dirt on a healthy home garden | 2020-05-15 | This spring, nature is calling out to Canadians once again. | May | Article | Gardening stories | | |
Report a problem on this page
Date modified: