Programs and Services
We help Canadian farmers and businesses produce the best possible food and agriculture products. Through our programs and services we support innovation, sustainable farming, business development, managing risk, trade and market development.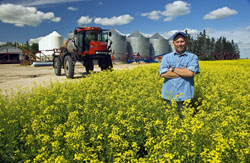 AgPal - Program and Service Finder
Get a list of federal and provincial programs and services tailored to your needs.
List of Programs and Services
Find our programs and services by name.
New programs
The following new federal programs under Growing Forward 2 are making investments to further strengthen the sector's ability to grow and prosper.
AgriRisk Initiatives
Supports research and development as well as the implementation and administration of new risk management tools for use by the sector.


AgriInnovation Program
Supports the agriculture sector's ability to develop innovative products and technologies and prepare them for the marketplace.


AgriMarketing Program
Supports industry to improve market access at home and abroad, and to strengthen food safety and security.
Growing Forward 2
Growing Forward 2 is an agreement between the federal, provincial and territorial governments that started on April 1, 2013. It is the foundation for governments to collaborate on agricultural policy, programs and services over the next five years.
Date modified: