Horticulture Value Chain Roundtable - Working Groups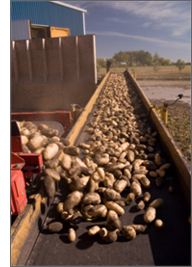 Working groups have been established to address related challenges and develop action plans in each of the Horticulture Value Chain Roundtable (HVCRT) strategic areas.
Energy/Environment Working Group (EEWG)
The environmental performance of the sector is a factor for both consumers and retailers in making buying decisions. The horticulture sector recognizes the value of measuring and reducing its environmental impact in order to respond to these demands while improving competitiveness and operational efficiencies, and determining how modifying these variables can translate to their bottom line.
The EEWG is now developing an industry survey to benchmark:

the capacity of the horticulture sector to measure its environmental performance;
current and expected pressures from government, retailers, and consumers related to demands for a more "sustainable" horticultural value chain; and
success stories or examples of changes that have been beneficial to participating firms.

Based on the findings of this survey, the EEWG will be proposing options for environmental performance measurements for the Horticulture Sector and pursuing an action plan for all implicated value chain stakeholders.
Fresh Produce Issues Working Group (FPIWG)
The FPIWG was formed to address specific concerns affecting the fresh produce value chain, particularly in relation to the regulatory modernization being undertaken by the Canadian Food Inspection Agency (CFIA). The WG is not currently engaged with any specific initiatives.
Horticulture for Health Working Group (H4HWG)
The H4HWG was established to developm an overall strategic vision for horticulture health-based initiatives, including development of messages to promote a healthy lifestyle and healthy choices with a focus on the consumption of fruit, vegetables and ornamental products.
Early initiatives of the Working Group focused on outreach to decision-makers and some institutional partners to build recognition of the sector's contributions to the health and well-being of Canadians.
In the next phase, the working group will further explore partnerships with a targeted set of organizations, particularly those active with health and nutrition programs. There are also plans to engage governments, non-governmental organizations (NGO), and youth and nutrition networks through a proposed industry-government forum and development of a related action plan.
Labour Working Group (LWG)
The labour intensive nature of the horticulture sector and its associated costs as well as difficulties in attracting and retaining skilled-workers are major challenges for Canada's Horticulture Sector.
The Labour Working Group (LWG) is composed of four sub-committees with separate but interrelated mandates. Specifically these are:

Sector Promotion and Career Awareness;
Management and Technical Skills Capacity;
Government Policies and Regulations; and
Innovation.

The LWG will continue implementation of the action plan developed two years ago during a national stakeholder workshop and explore ways of collaborating with other sub-sectors of the Agriculture and Agri-Food industry including through the work of AAFC's new Labour Task Force which is composed of representatives from all Value Chain Roundtables seeking solutions to common labour-related challenges in the Agriculture and Agri-Food industry. The WG will explore opportunities to pursue their goals through the work of this new Task Force, including some initiatives which are currently on hold described below.
Two projects are currently on hold pending the identification of funding:

An innovation benchmarking study which would explore existing innovative labour-saving technologies available in Canada; what Canada's competitors are doing and how innovation is funded in other jurisdictions; and gaps in Canada's approach to innovative labour-saving technology from both industry and government perspectives.
The development of a "Careers in Horticulture" website for the Sector Promotion sub-committee.
Market Development Working Group (MDWG)
The overall mandate of the MDWG is, through a selection of targeted initiatives, to contribute to strengthening the Canadian horticulture value chain and enhancing the competitiveness of the sector, while increasing the consumption of Canadian horticultural products.

The MDWG's Supply Chain Communication Initiative (SCCI) was initiated to improve information sharing between grower/packer/shippers and buyers of local fresh produce . Using a web-based electronic platform, the goal is to fill gaps in communication in the Canadian fresh produce supply chain to maximize sourcing of locally produced fruit and vegetables. The site will provide produce value chain stakeholders with up-to-date information on the availability of fresh local produce. The website is initially being launched on a very limited scale to demonstrate its feasibility, and will be restricted in scope to the provinces of Ontario and Quebec and will focus on a limited number of horticultural crops (carrots, onions, celery and lettuce). If proven successful, the objective is to expand the project to other horticultural crops and regions fairly quickly in order to have a national system in place for the entire Canadian produce industry. Industry partners involved in this pilot project include the grower organizations Holland Marsh Growers' Association and Association des Jardiniers Maraîchers du Québec (Quebec growers' association), the produce marketing associations OPMA, QPMA and CPMA, the Canadian Horticultural Council and a number of major retailers.


Ontario Flower Growers (OFG) was contracted to develop the website which is expected to be launched in early July 2012. The website has been named "Canada's Produce Place" and OFG has registered the domain name for 2 years. In preparation for the full launch of the website, a select group of stakeholders are reviewing and testing the working prototype site. Additionally, SCCI working group members are developing a communication strategy and common messaging to promote the site.
Market Development Working Group (MDWG) – (Potato Sub-Committee)
This group, which includes representatives of major retailers as well as potato producers, identified a number of opportunities to strengthen value chain collaboration, with the expectation that these approaches could become models for other horticulture commodity sectors.
The areas of action include communications; consumer research and information and associated production and marketing plans; and recommendations to influence policy and legislative changes, particularly as they relate to packaging, grade standards, and health claims. The approach includes considering successful international models and strategies (United States, New Zealand, South Africa).
The Sub-Committee's workplan was endorsed by the Roundtable. The Canadian Potato Council has also discussed the proposed plan, and is looking for potential sources of funds to move forward with the proposed consumer research initiative
Ornamentals Working Group (OWG)
The Ornamentals Working Group (OWG) was created to provide a forum to address issues that apply uniquely to producers of flowers, potted plants, trees, shrubs, sod and other live products as well as to give consideration to the ornamental perspective on issues that are common to all horticulture producers.
Common horticulture issues with strong OWG involvement include labour, water, energy and regulatory issues. OWG is an active partner in the Horticulture for Health project, a partnership that helps improve recognition of the health and environmental benefits of ornamentals alongside the nutritional benefits of fruit and vegetable horticulture.
The OWG has recently completed a SWOT analysis for the Ornamental sector and is currently developing a strategic action plan to respond the challenges and opportunities that were identified.
Sector Intelligence Working Group (SIWG)
The Sector Intelligence Working Group was established to identify and address gaps in market intelligence and information needed by the Sector to pursue strategic competitiveness goals. The first project of the SIWG is to conduct an environmental scan to identify the availability of current datasets, publications, and other resources pertaining to the horticulture value chain that provide relevant market information and intelligence.
The outcome of the scan will help stimulate the next phase of work to be done through a SIWG workshop in which will include participants from industry, federal and provincial government representatives, academics and other stakeholders.
Participants will be asked to use the results of the scan to determine the gaps in information availability that should be addressed based on the needs/information requirements of the horticulture sector. The variables for consideration will include: economic data (production, production costs, consumption, marketing, trade, etc...), market intelligence, and sector profile to support market access and improve competitiveness.
Water Working Group (WWG)
AAFC is providing funds for the WWG to hire a contractor to develop a horticulture sector water strategy, with particular emphasis on access to sufficient quantities of water for the sector, water quality, and excess moisture. A Steering Committee of the WG will work with the contractor on this project over the next several months, drawing in industry representation and expertise as needed.
The work is expected to look at the Sector's water needs over a long-term (up to 50-year) time horizon, and develop a strategy to position the sector to maximize its competitive position with respect to water. Attention will also be given to relevant regulatory frameworks, best management practices, and emerging technologies in this context.
It is expected that following development of a draft strategy, a workshop of industry stakeholders will take place to validate the results, and to plan implementation, including communication and collaboration with stakeholders in other sectors.
Date modified: