Commodity Innovation Series - Snapshot of Opportunities in India's Pulse Sector
United States dollar (US$)
Commodity-based information and opportunities for Canadian agri-food businesses in international markets.
Quick facts (2015)
India is the largest consumer and importer of pulses in the world
Pulses are a primary source of protein and are widely used in daily cooking
Pulse ingredients (pea protein and pea starch) are increasingly used in packaged foods
There is a heavy reliance on pulse imports due to insufficient domestic supply
Population growth, growing urbanisation, and busier lives are increasing preference for easy-to-prepare nutritional products that supply protein & carbohydrates.
Canada is the number one supplier of pulses in India
Canada accounted for 38% market share of India's pulse imports, worth US$1.4 billion
India's import from Canada had an average annual growth of 20% from 2010 to 2015
Source: Global Trade Tracker
Pulses in Bulk
Sales are expected to grow by a rate of 4% from 2015 to 2020
Dried peas, lentils and other pulses are expected to perform the strongest with volume sales forecasted to grow at an average rate of 4%.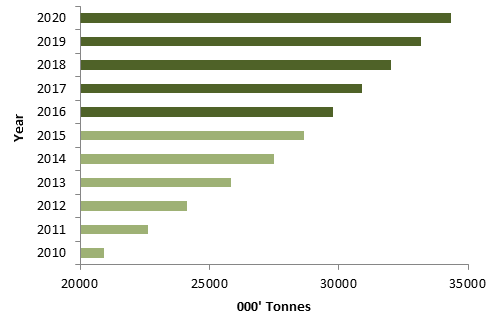 Total volume sales grew by 4% in 2015
Pulses were widely sold unpackaged
Traditional retailers accounted for 77% of the total volume sales, while foodservices accounted for 23%.
Sales volume increased by 28.6 million tonnes from 2010 to 2015.
In 2015 Canada accounted for 9% of India's total volume sales
India imported 2.5 million tonnes of pulses from Canada
Source: Global Trade Tracker
Pulses as an ingredient (2010-2015)
India accounted for 30% of the world's pulse product launches
India launched nearly 2,000 products using pulses as an ingredient.
Top product launch categories were baked goods, snacks & desserts, sauces & seasoning.
Major companies in India launched pulse products in 10 different product categories
MRT Foods launched the most pulse products under its MRT Daily Favourites brand.
Health and wellness are growing claims for new products containing pulses
Top claims:
Vegetarian
Low/No/Reduced Cholesterol
Premium
No Additives/Preservatives
Low/No/Reduced Transfat
Top growing claims:
Low/No/Reduced Fat
Convenient Packaging
Low/No/Reduced Calorie
Premium
Ethical - Charity
Declining claims:
Vegan
No Animal Ingredients
Low/No/Reduced Lactose
High/Added Fiber
Economy
Flexible packages are the leading packaging type for products containing pulses as an ingredient
Top packaging types:
Flexible
Flexible sachet
Flexible stand-up pouch
Top packaging materials:
Plastic unspecified
Metallised Film
Multi laminate
Top packaging combinations:
Flexible, Plastic unspecified
Flexible, Metallised Film
Flexible sachet, Plastic unspecified
Source: Mintel
India is rated excellent in innovative pulse products
India is a world leader for pulse innovation in new product launches, re-launches, and in product line diversity.
Top innovative pulse markets
Description

Top innovative pulse markets - Product innovation ranking
Innovation Criteria
India
United States
United Kingdom
Germany
Canada
Australia
France
Spain
Italy
Ireland
Relaunch
5
6
5
3
5
2
6
4
4
2
New product
16
15
16
18
16
19
15
17
17
19
Product line diversity
12
11
9
9
9
6
7
6
5
5
Health & wellness claims
19
19
17
14
14
17
14
15
13
13
Source: Mintel
Rating scale: Excellent (20-17), Very good (16-13), Good (12-9), Fair (8-5), Low (4-0)
Factors for consideration
Mature pulse trade between Canada & India
Established relationships & numerous players exist
Bulk trade is the norm
Food safety regulations
High difficulty for new entrants in the raw pulse trade
High retail margins & listing fees for direct retail products
Price volatility is high leading to risks in trade
Recommendations for entry
Understand the market and culture
Understand the industry and players
Participate in Trade Shows
Find an import partner
How can we help
We offer multiple programs and services to help you achieve your international business goals, such as the Agri-Food Trade Service, AgriMarketing Program, and Canada Brand.
International Trade Commissioners are also an excellent point of contact for export advice and can provide Canadian industry with on-the-ground expertise regarding market potential, current conditions, and local business contacts.
Have we piqued your interest?
For more information on opportunities in India or to join our distribution list, make suggestions, or request a report, contact the single window at MAS-SAM@agr.gc.ca.
Find out about our programs, services and tools to support your exporting efforts. Exporting from Canada
Date modified: