Agroclimate Impact Reporter
Agroclimate Impact Reporter Application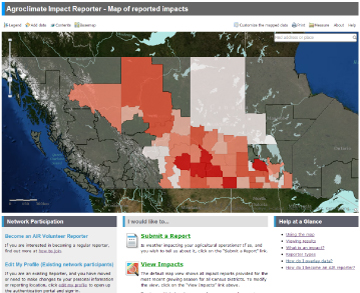 The Agroclimate Impact Reporter Application is an online spatial tool to view an ongoing dataset of weather impacts submitted by volunteer reporters. With the tool you can:
submit a report of weather impacts by province/census district/municipality, by category/severity of impact, and by time period;
view counts of impacts at a variety of spatial levels, categories and time periods;
view reports by user types;
make data queries; and
overlay existing or personal spatial layers and datasets.
Agroclimate Impact Reporter Maps
The Agroclimate Impact Reporter Maps provide you with monthly snapshots of current and historic individual impacts, as reported by registered volunteer reporters.
Become a regular reporter
The reports from our registered volunteer network helps communicate current conditions and emerging risks to the agriculture sector, the federal government and many provincial and local government agencies. The current network of 300 volunteer contributors is comprised of producers and industry partners. If you are interested in becoming a regular reporter, find out more at how to join.
Date modified: